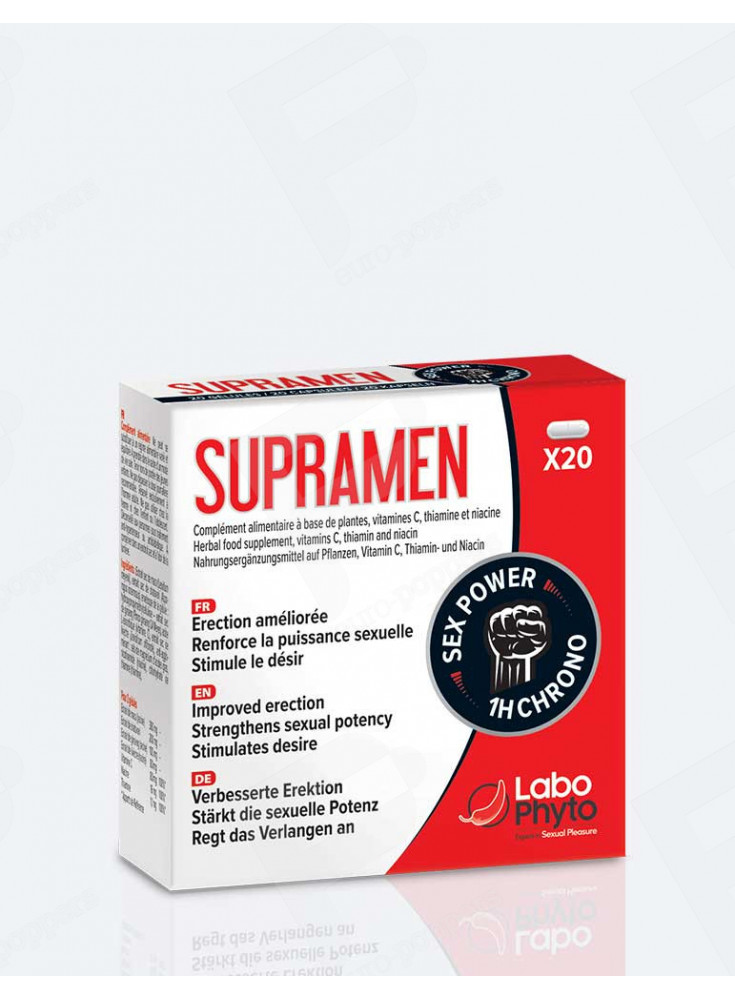  
SupraMen Stimulant - 20 Tablets
SupraMen 20 capsules. SupraMen sexual booster is one of the best selling sexual enhancers. This supplement, made in France, increases sexual power and desire and delays ejaculation by maintaining an erection. Sexual vitality is restored. It is recommended to take 2 capsules of SupraMen 1 hour before intercourse. SupraMen booster is a sexual stimulant that has 4 aphrodisiac properties to greatly improve your libido: 
Improves erection (Ginseng)
Stimulates sexual desire (Maca)
Extends pleasure (Asparagus racemosus)
Strengthens sexual power (Lovage)
Contains 20 capsules
Made in France
Complies with EU regulations
Description of 

SupraMen Sexual Stimulant 20 capsules
Asparagus Racemosus (root) 200mg - delays ejaculation 
Maca (root) 380mg - stimulates sexual desire 
Ginseng (root) 100mg - improves erection 
Lovage (root) 80mg - sexual potency
Vitamin C (80mg (100% DRI)
Niacin (16mg (100% DRI)
Vitamin B1 (1.1mg (100% DRI)
Selenium (55μg (100% DRI)
Zinc (10mg (100% DRI)
SUPRAMEN is a food supplement of 100% French manufacture, declared to the DGCCRF under the N°2017-1-206 and complies with French regulations.
Other products you might also like: