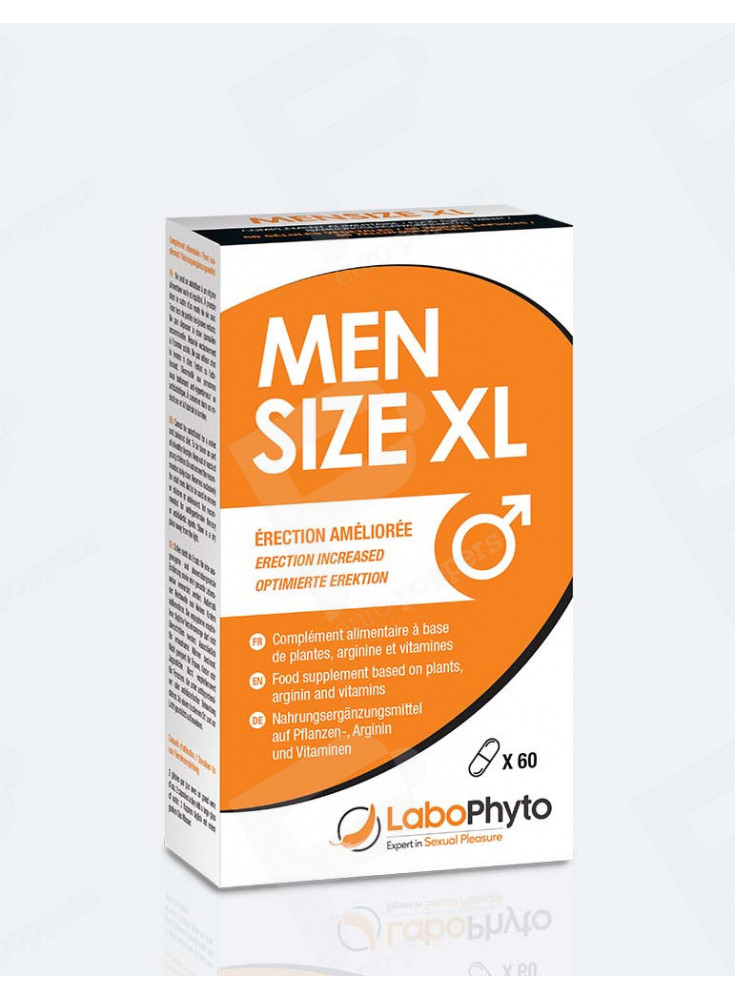  
Men Size XL Supplement - Capsules
Men Size XL 60 capsules. The Men Size XL male sexual stimulant aims to improve the erection, thus boosting libido and sexual performance with your partner. Made from 100% natural ingredients, Men Size XL contains 60 stimulating capsules. Each ingredient has specific aphrodisiac properties.
This aphrodisiac sexual stimulant is suitable if you have the following issues:
Decreased sexual performance
Penis not big enough
Erections not hard enough
Instructions for use: 2 tablets per day for 3 months for an optimal result.
Brand: Labophyto
Made in France
60 capsules to increase the size of the penis
Description of Sexual Stimulant MenSize XL 60 tablets
Composition for 2 capsules:
Sweet clover extract (aerial part) 160 mg (blood flown, erection)
Lovage extract (root) 100 mg (strenghthening, invigorating)
Asparagus racemosus extract (root) 100 mg (delays ejaculation)
Ginseng extract (root) 90 mg (erection)
Tribulus extract (fruit) 80 mg (erection, sexual performance)
Boswellia extract  (resin gum) 20 mg (blood flow)
Piper nigrum extract (fruit) 5 mg blood flow in the genitals)
L-Arginine 60 mg
Zinc 10 mg (100% AR*)
Selenium 50 μg (90% AR*)
Vitamin B2 1.4 mg (100% AR*)
Vitamin B12 2.5 μg (100% AR*)
Other products you might also like: