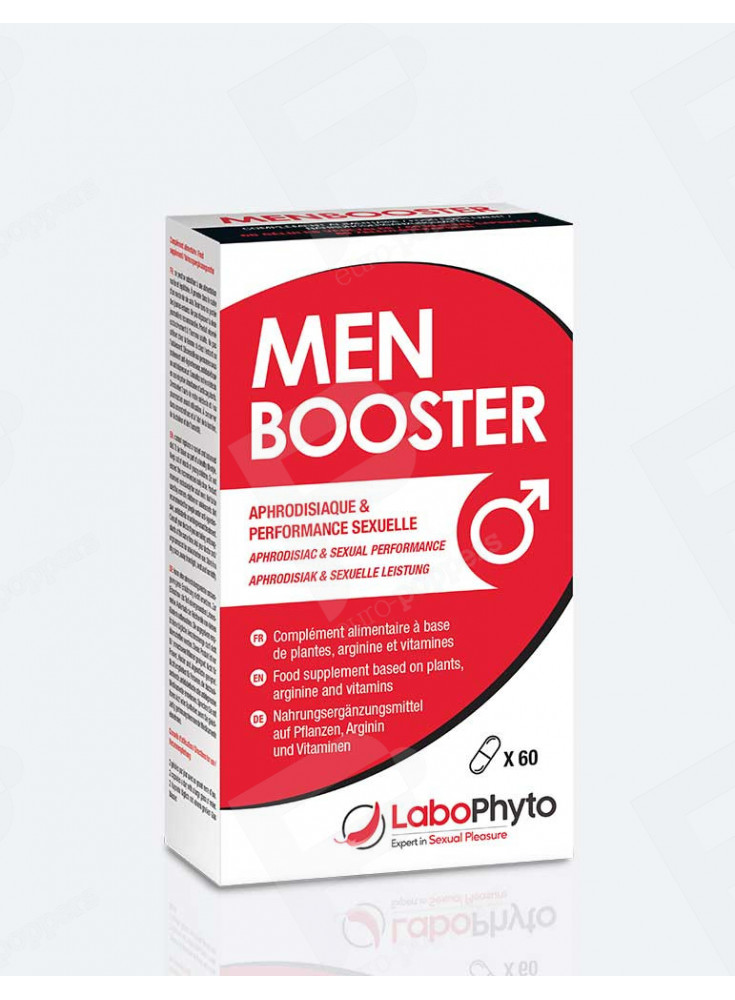  
Men Booster Supplement - Capsules
Men Booster 60 capsules. The sexual stimulant Menbooster improves sexual performance and increases men's testosterone level by using the medicinal Tribulus plant. These erection pills are sex boosters made in France. For an optimal result, we advise you to consume 2 capsules per day.
Men Booster Sexual Stimulant helps maintain men's testosterone levels with carefully selected ingredients: Selenium and Vitamins B1, B2 & B3.
Instructions for use: 2 capsules per day with a glass of water, preferably in the morning.
Contains 60 tablets
Erection pills
Brand: Labophyto
Made in France 
Description of Sexual Stimulant Men Booster 60 Capsules
Composition for 2 capsules: 
Tribulus extract (fruit) 150mg (erection, sexual performance)
Muira Puama extract (bark) 130mg
Astragale extract (root) 100mg (healthy sperm concentration)
Ginseng extract (root) 90mg (erection)
Maca Powder extract (root) 80mg (prod sperm)
Ginkgo extract (leaf) 80mg
Sabal extract (fruit) 80mg
L-Arginine 100mg
Vitamin B1 1.1 mg (100% DRI)
Vitamin B2 1.4mg (100% DRI)
Vitanmin B3 16mg (100% DRI)
Consult your doctor or pharmacist if you are taking anticoagulants at the same time.
Other products you might also like: